recently, my boyfriend pointed out that i very rarely wear skirts. i tend to opt for either boring jeans and the same old t-shirts, or a dress if i feel brave enough to show my legs.

the truth is that i've always had a problem with knowing what to put WITH skirts.
everyone else can do it find!
i have an aversion to this seasons ruffle skirt, because i'm convinced it will make my hips look huge, and although i do have
THIS
and
THIS
skirt that i wear on and off, they're really my only wearable skirts.
when i got an birthday £10 off email from ASOS.com, i immediately went to dresses. (well, after
this jacket
, that i love, and will probably get.) however, i will now force myself to look through skirts. i quite like wearing over the knee skirts- they feel light and airy without the fear of exposing my rear with one gust of wind. my hatred of my legs always rears its head more with skirts than with dresses for some reason, which probably explains my dislike of wearing them.
does anyone have any advice for what to wear WITH skirts? that sounds like a stupid question, but it always just flumoxes me!
anyway, here are some inspirational pictures of inspirational girls in lovely skirts.
adri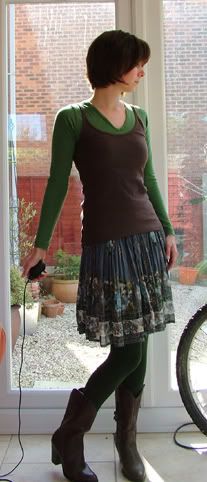 flying saucer
rumi
(wearing a skirt by
childhood flames.
)
pandora
the clothes horse
cheapskate chic
i could go on forever...
i should really now go and search Chictopia for people with the same body type as mine (let's face it-my legs are NEVER going to be as thin as i want them) and then put a load in my scrap book for inspiration...