i'm really sorry for my lack of blogging recently- the combination of beautiful weather, working, a family get together and working towards on some illustrations for a zine (!!!!! excited !!!!!) have meant that i haven't had a lot of time to blog.
i have also imposed a clothes shopping ban on myself- on anything over £3. yes! i can still buy knickers!! who doesn't love underwear, hey?
whilst shopping with my best friend last week, i tried on this top from topshop: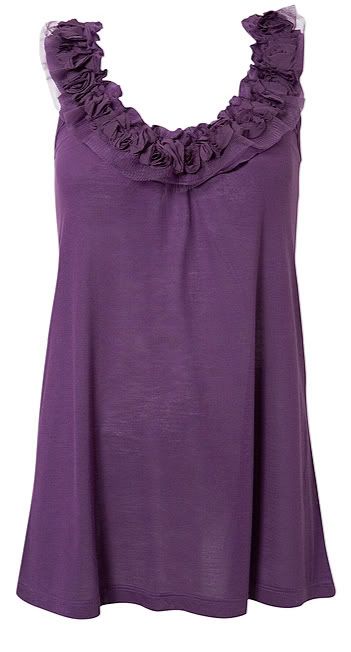 the one i tried was actually a beautiful dusty pink (not a colour i've ever tried before- i automatically thought it would look awful against my skin, but it actually looked lovely) and i've really fallen in love with it.
however, £28 for a vest top with some flowers on it is...URGH. criminal!!! so i'm planning on making one myself! yay!
my blogging is going to be pretty sporadic for the next three weeks, as next monday i go away to Switzerland for two weeks. I'm really excited because we'll be staying in the mountains, and i do love mountains! i know the campsite has internet access so hopefully i'll be able to bring you pictures! if you want, anyway!
oh, and on the subject of the cupcakes in my last post:
the topping is actually crushed up Fox fruit sweet things (boiled sweets, basically). they gave the EXACT effect i was looking for, although they did melt after a day...