i was debating whether to do a post about some bits and pieces i got for my birthday or not- i don't want to seem like i'm bragging or anything, but they're pretty things and i want to show them!
well, obviously i decided to post, i hope you don't mind!
i think all my friends and family must thing i smell or something, because i got this perfume from my wonderful boyfriend (it smells so good...)
(it has such a lovely lacy cover!)
and Lush soap from three separate people! a big box from my dad, a lovely (unrealised...don't tell anyone!) bathbomb, and a selection of soaps from two friends that work at Lush. they're making my room smell heavenly...
i also got a selection of notebooks and a book on polaroids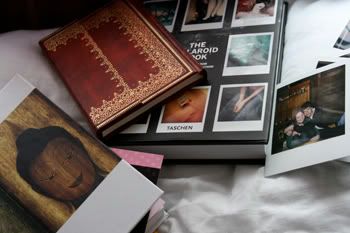 my mum bought me this gorgeous trinket box with a chintz pattern
and mum and dad bought me this beautiful coloured glass ring:
the photo really doesn't do it justice! and, please excuse the horrible burst burn blisters on my fingers =/
another friend bought me this lovely dress that i've been eyeing up from new look for ages now- it's quite a lot like the dress
here
only it's a really light cotton so it'll be great for daytime (:
(please excuse the dodgy expression..)

fortunately the weather was fine last night so the fairy lights and home made fairy cakes:
stayed dry and tasty (:
however, it's FREEZING today, so i'm layering this dress with jeans.