As a lot of you know, i'm pretty into photography. I adore the raw, un-altered, 'natural' photography of photographers like
Carl Bengtsson
and
Lina Scheynius
and for a while i've been interested in polaroid photography, and since that has become so expensive and hard to access, i've switched my obsession to lomography.
by lomo440
"Lomography emphasizes casual, snapshot photography. Characteristics such as over-saturated colors, off-kilter exposure, blurring, "happy accidents," and alternative film processing are often considered part of the "Lomographic Technique."[citation needed] Users are encouraged to take a lighthearted approach to their photography, and use these techniques to document everyday life, as the Lomo LC-A's small size, simple controls, and ability to shoot in low light encourages candid photography, photo reportage, and photo vérité."
& again..
So, for my birthday, i managed to pursade my parents to get me a diana F+. they seemed suprised that i didn't want to go completely digital, and my dad thinks it's pointless. however i just can't resist the results that dianas can give.
(here are a good collection on deviantart)
my birthday's not until 4th july, but i also managed to make them let me experiment with one film so i can use it to document my birthday (: i'm VERY happy.
ew.

i like the mirror effect, obviously!
i like how it makes my garden look.
i actually LOVE this tshirt. it's super comfy, which, as i was home all day, was my focus today (:
i spent most of my day reading, here.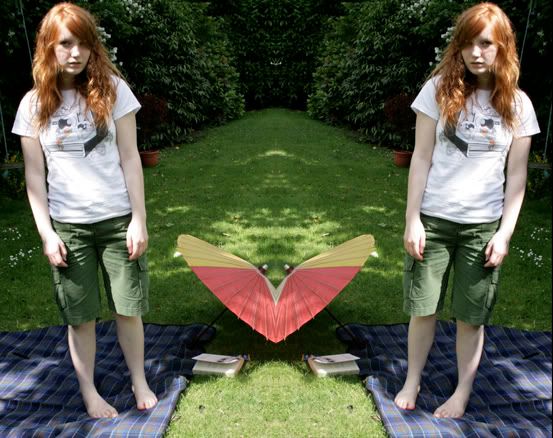 these shorts are new- i got them from fat face in the half price sale.
i'm still not...100% on them, but i don't like how i look in anything right now, so on they go!