on saturday morning, my mum and i took the french students to the station so they could go home. there were so many of them there! we ended up taking them because the students of my mum's school couldn;t house any, so they were in desperate need of places. the majority of them ended up staying in the school its self, so i'm glad we could take some. they weren't nearly as bad as i had expected- being special needs students i was worried that they would be hard to communicate with (and i mean that with no discrimination towards anyone) but they were alright in the end.
we then went into town, and came across a charity shop we'd been meaning to go in for ages.
there were some cool things there- LOADS of books. mum and i went a bit mad and got lots of pointless ones, like Etiquete For Gentlemen and dressing up books. seeing as they were about 40p each, i don't feel bad about it!
my books- Handel's Messiah, which i plan to rip up to use in various collages, Etiquette for Gentlemen, The Quotable Woman and Knitting in Vogue. I can't knit but one day, i will knit myself an awesome cardigan.
I also got:
a full length night dress, which i plan to cut down and line so i can wear it on holiday
a really interesting belt- i just loved the pattern and texture of it, even though it's a horrible plasticy thing. I'll find something to do with it...

I also found a replacement purse for mine, which has fallen apart. when my dad saw it, he asked me why i had his mum's purse. oh dear.
THEN we went into the proper part of town and passed Whittards of Chelsea. As usual, my mum stopped outside and lusted over the plates. We have these horrible 28 year old plates that mum and dad got as a wedding present, that EVERYONE hates but mum wouldn't buy new ones because it would be a waste. I managed to pursuade her to get some new pasta and cereal bowls, because they were on offer, though!
She treated me to some crockery for when i go to uni (her words were "just choose whatever you want!" I felt bad so i only got half of the minimum i will need. what a good daughter i am...).
I got really bright stuff so they'll make me happy.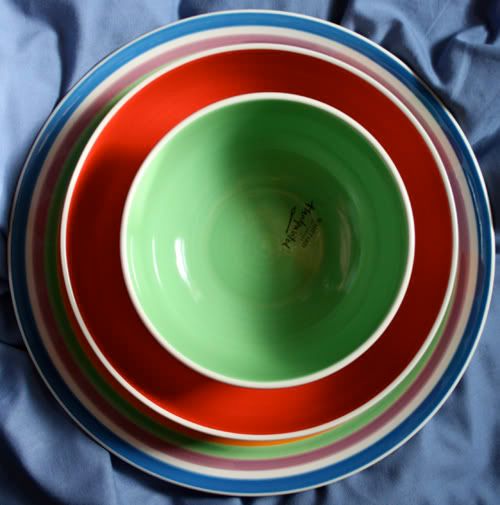 happy eating (:
we both ended up dressing pretty similar, actually. i wore this:
and my mum wore a printed dress and jacket of almost the same colours. but she wouldn't let me take a photograph. meanie.
the nub and jist of this post is that i love my mummy! sorry it's been so long and rambly...