I've had several things to blog about but not enough time to do it!
so here goes...
On Saturday I went down to Brighton with my boyfriend to Moshi Moshi (a sushi restaurant) to celebrate his 18th birthday (and our four month anniversary (: )
I wanted to dress up a bit, so my choices were limited to...er..one dress (: but it's my favorite so that's good (:

i got it around Christmas in the Miss Selfridge sale..it's 100% silk and was marked down to £30 =D
i just wish it didn't bunch around the bust so much =/
i tried it with grey and black tights but they show right through =/ risky...but i like the cream (:
i did my hair in "milk-maid" braids
dress: miss selfridge. shoes: primark. tights: new look. jacket: brighton laines
I'd never had sushi before so i was slightly nervous, but it all worked out perfectly (:
moshi moshi is such a cool building...it's like a prefab, dropped in the middle of a square surrounded by a hotel and office blocks. there's a sushi-go-round and most of the staff are native Japanese.
unfortunately i messed up the ISO so all the images came out badly and very red.
ed's Korean Spiced Pork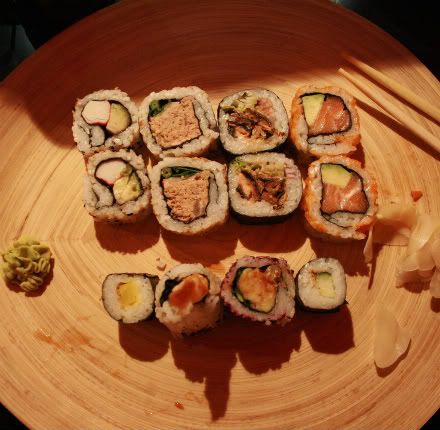 my huuuuge sushi platter. yum yum
we also had miso soup and i'm now addicted...
the bar...
him...
...& I (:
a perfect evening (:
when we woke up...
IT WAS SNOWING!!!
WOOWWWW.
i wish i had got out to take some proper pictures, but here are some taken out of an open window..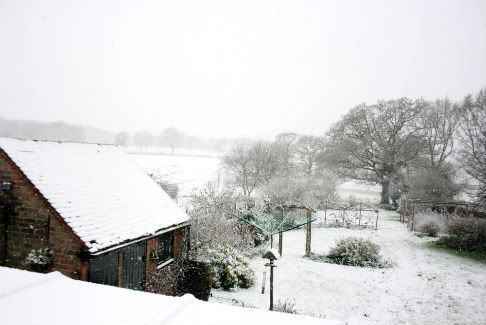 during the day we went back down to Brighton to find some jeans for Ed. Shopping for jeans is the worst thing in the world.
but we found some lovely Superdry ones (:
the end (: